The beaches and rocky foreshore with its intertidal rockpools along the AONB coast are a key habitat for a wide range of wildlife and a major attraction for visitors to North Devon. As part of the team's work with partners to enhance the natural beauty of the coast, there has been an ongoing programme of working with communities and businesses to keep the coast clean.
2016 Activity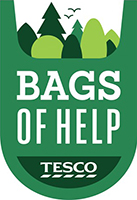 We have been generously funded by the Tesco Bags of Help scheme to support community volunteers to set up beach care groups to remove marine litter and engage residents and visitors to keep them clean. Check out our events calendar if you want to help or contact us.
Community Beach Care Groups
BeachCare groups have been set up and supported by the AONB and Tidy Britain Group http://www.keepbritaintidy.org/beachcare/537 who have a very active South West team helping groups in North Devon.
Active groups can be found at:-
If you want to set up a new group, contact us for advice and support
Marine Litter Surveys
The AONB's recent Clean Marine project led by Natalie Gibb, trained and supported a large number of local volunteers to get involved with and carry out regular litter surveys across a number of beaches. This was used to provide feedback locally to beach owners and users as well as to the national charity - the Marine Conservation Society who conduct national surveys and encourage care of the coastline http://www.mcsuk.org/beachwatch/ . The AONB will continue to support annual surveys – check out our events calendar for the next one.
National Beach Clean campaigns
Fishing for Litter
With support from the European Fisheries Fund under the Northern Devon FLAG (Fisheries Local Action Group), the AONB encouraged two harbours in North Devon to set up collection and disposal systems to manage marine litter collected by local fishers in the Clovelly and Ilfracombe areas. This encourages the fishers to bring in any floating litter or debris caught in their nets which are detrimental to their business, the marine environment and our beaches by providing appropriate storage at each harbour and ensuring disposal when necessary. See http://www.fishingforlitter.org.uk/project-areas/south-west
Gallery