Windbury Head Aircrash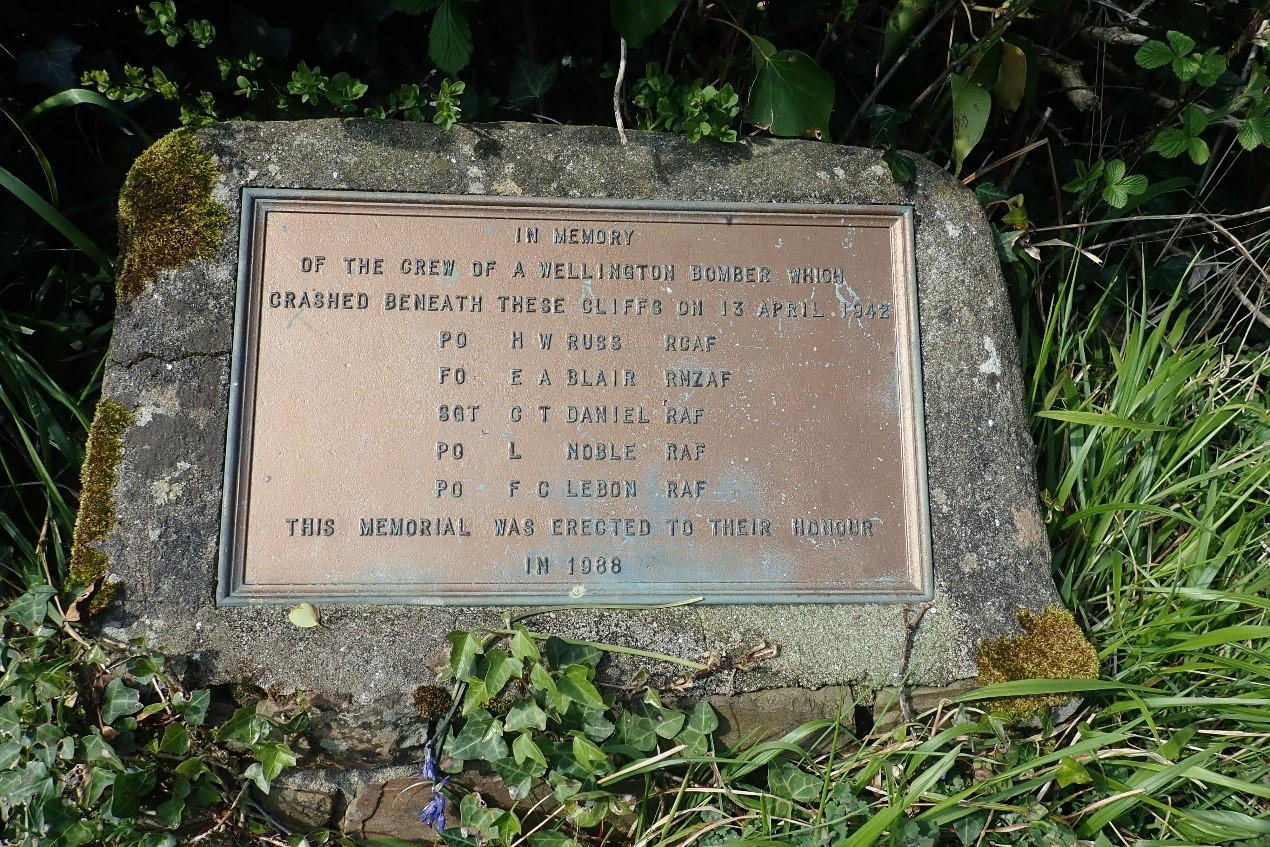 On 13th April an RAF Wellington aircraft flew into the cliffs at Windbury Head. The aircraft was from RAF Chivenor which was a Coastal Command base on the banks of the River Taw. The aircraft was a part of the newly activated 172 Squadron which was training to use the new Leigh Light for U Boat search and destroy missions in the Bay of Biscay.
The pilot, Pilot Officer H W "Bill" Russ of the Royal Canadian Airforce, had been despatched from RAF Chivenor to collect the new Commanding Officer (Wing Commander J B Russell) of 172 Squadron, who was then at St Eval airbase in Cornwall. Unfortunately, the weather closed in with low cloud and rain and Russ never reached his objective, the plane crashing into the cliffs at Winbury Point killing all 5 crew members on board.
The wreckage was spotted two days later when another plane saw the tail of the aircraft sticking out of the cliffs at Windbury. This was the first the Squadron's first casualty since its posting to North Devon.
Interestingly, one of the members of the crew, F C "Freddie" Lebon an air-gunner was brother to the grandfather (Great-Uncle) of pop star Simon Lebon. All five members of the crew are buried in Heanton Punchardon Churchyard, which overlooks the airbase at Chivenor. Today it is a Commonwealth War Graves Site where many fallen airmen are buried.
There is also a memorial to the crew adjacent to the Coast Path at Windbury Head which commemorates the crew.  In 1986 one of the Wellington's engines was recovered from the crash site by members of the Hartland Air Training Corps (ATC) and was subsequently put on display in the Hartland Quay Museum.
Image: The Memorial to the Wellington Crew at Windbury Head installed in 1988